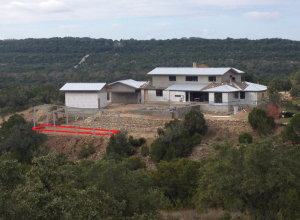 In between the raindrops and freezing temps, we've had some absolutely gorgeous days!!!  I wanted to share this picture of our house.  It's a great view from across the way.
It features all of the site work that's been done.  We have the pool, the stoned retaining walls and a cleared site for the batting cages (demarcated by the red rectangle).
Please not that all of the rocks used in our backyard are pulled from our property or from nearby lots.  We had a win-win situation.  Our neighbors wanted the rocks cleared out, and we wanted their rocks for our landscaping.  These photos don't do them justice, the retaining walls look stunning in person!